Dear fellows & colleagues,
Thank you for spending your time to familiarize your good selves to United Marine Services. We claim that we have achieved a very good relationship with our clients of major marine, oil and gas companies within Egypt and the middle east through our dedication to Safety First Policy , Highest Quality levels required by our clients specifications, International Codes and Standards, and our Health and Environmental Protection Policies and protection proced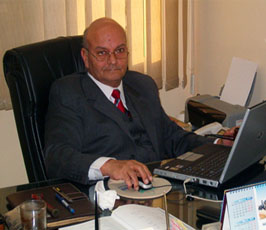 ures adopted in our activities.
At UGMOS we believe in the continual improvement of our performance and in customer satisfaction.
Our Vision is to become the market leader in the region by providing the Best Services and Engineered Systems to the Oil & Gas Upstream and Downstream Facilities, Petrochemical, Power Generation, Marine and off-shore Industries, in order to enhance their performance, productivity and efficiency.
Hope that you have enjoyed your time at our web site, and our staff will be more than happy to answer any of your queries through our mail address, telephone or E-Mail.
Thank you once more, and hope to hear from you soon so that we can be of assistance in accomplishing your and our goals for a Safe and Successful projects.
Eng. Adel Nassef
Chairman