United Group For Marine & Oil Services. runs a large scale blasting and painting team composed of highly skilled and experienced Blasters, Painters and helpers that work under the supervision of a highly trained and experienced supervision team composed of site engineer, blasting & painting foreman, HSE specialist using state of the art equipment necessary for Blasting and painting i.e (Air Compressors, Blasting machines, Airless sprayers, High pressure washing machines).
The working site is equipped with dust collection apparatus and abrasive recycling equipment allowing the use of most types of blast media, including silica sand, coal slag and garnet.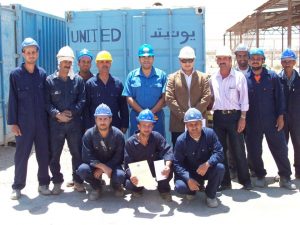 After your equipment is sandblasted our painters can apply a high performance paint system that will last for years to come and make your surfaces look brand new again.
• Field Sandblasting
We are a highly skilled in abrasive blast cleaning and the related application of general and specialty coatings.
In addition, our confined space training and certification provides our customers with a one-stop, full-service resource for all types of surface cleaning and preparation.
A long list of qualifications highlighting: OSHA safety standards, employee training, various certifications, and environmental safeguards are there for your protection. Our industrial painters are certified to construct scaffolding and operate our dust collection equipment to prevent blast emissions from escaping the site.
By consistently demonstrating skill and reliability UNITED MARINE SERVICES has developed lasting relationships with Oil & gas, Petrochemical plant operators companies, complexes, as well as shipyards throughout ,Egypt.
Confined Space Work Environments
There is plenty to know about planning and executing a surface restoration project in a confined environment. This is high risk work that should only be trusted to an experienced team having the proper safety and procedural qualifications.
The types of projects that encompass this designation include storage tanks, ballast tanks for ships and off-shore rigs, silos, process vessels, pipelines, and more. Interior surface maintenance protects the quality of the contents and the integrity of the structure.
The selection decisions for choosing a contractor to perform surface preparation in confined space and painting in confined areas begins with a careful understanding of the safety issues. Hazardous atmosphere, limited entry, oxygen deficiency, and physical hazards are some of the many factors that must be considered.
We have more than 10 years of experience working in hazardous environments. Our documented safety plans and confined space procedures are your assurance of our respect and attention to SAFETY FIRST practices. Following procedural guidelines, performing surface preparation thoroughly and applying specialized coatings correctly is something we do very well. We are professionals with over 10-years of experience satisfying industrial facility operators, site managers, third-party inspectors within Oil & Gas and petrochemical and Marine sectors.